What's in the sauce?
Curious about what goes into crafting the award winning sauces you've come to love?
There's no secrect here.
Click a bottle to learn more.
Shop All Sauces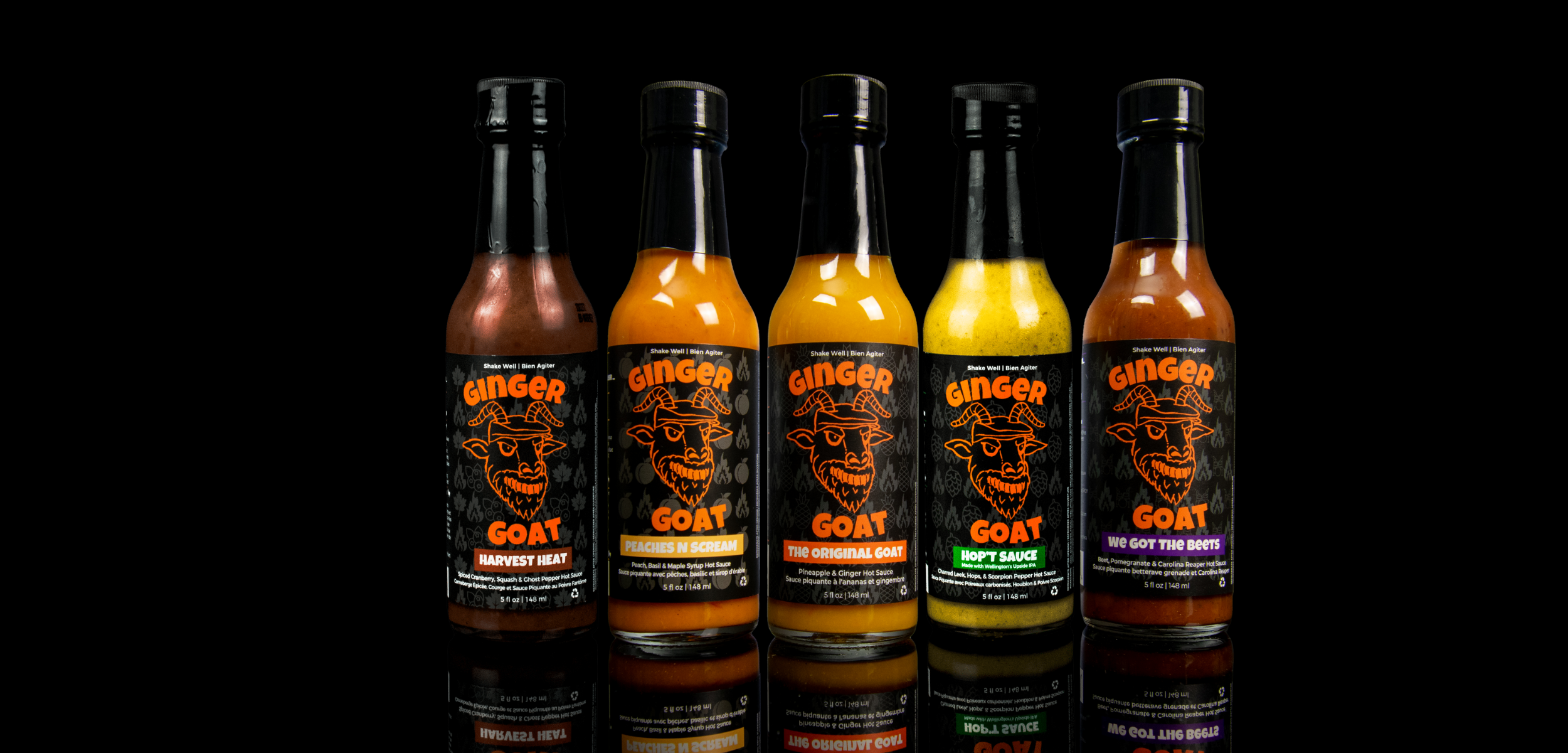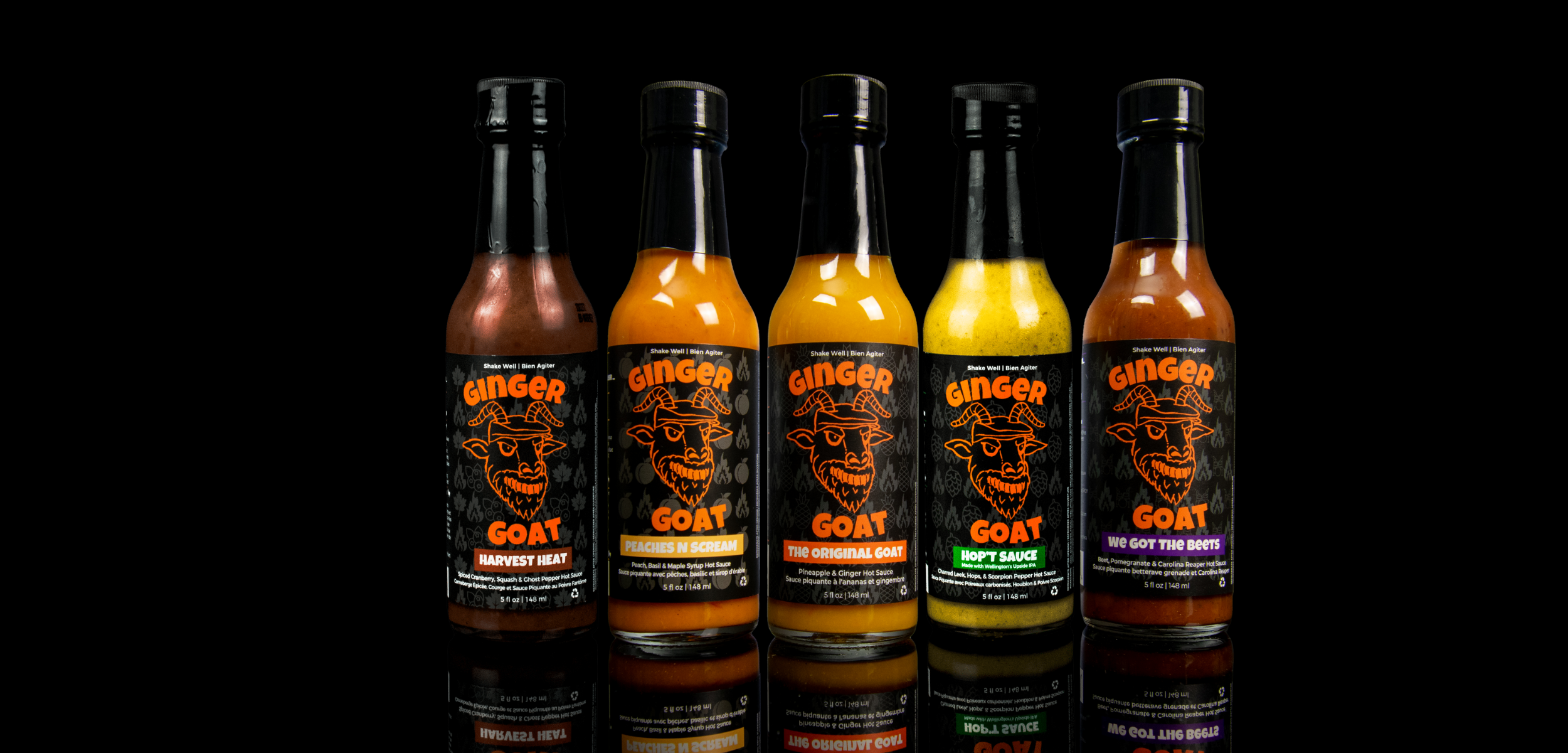 No Preservatives
With roots dating back to India around 2400 BC, people have been preseving foods with pH adjustments for a LONG time.
You don't need more than great ingredients and a time tested process to produce a tasty shelf stable product, but, lab testing and approved / inspected production facilities help too of course ;)
Real process and attention to detail
If we say it's "roasted", we roast it. If we say it's "smoked", we natually and time consumingly smoke it.
We sweat the small stuff and carefully craft each sauce to deliver a headbutt full of flavour!
Some of the WORLDS hottest peppers
We've prided oursevles on using some of the worlds hottest peppers in a way that's balanced and approachable...MOST of the time anyway.
Only REAL ingredients
At Ginger Goat we only use whole ingredients and things you can actually pronounce!
No thickeners or stabilizers
Some products use fillers and other chemicals or proccesses to make their sauces full or thick.
Not us though! There are no thickeners or fillers in any of our sauces and we plan to keep it that way...even if that means you gotta give the bottle a little shake every now and again.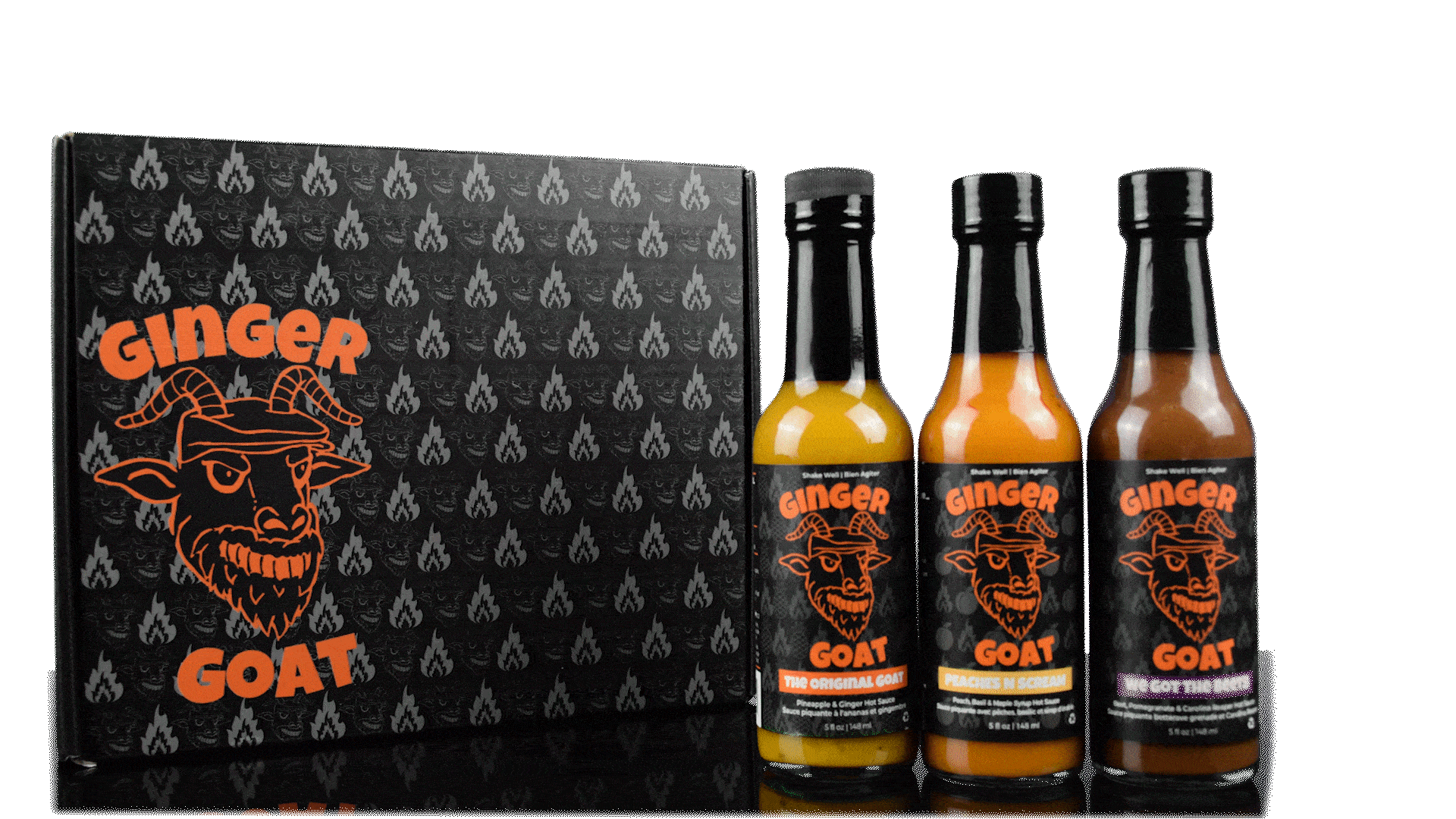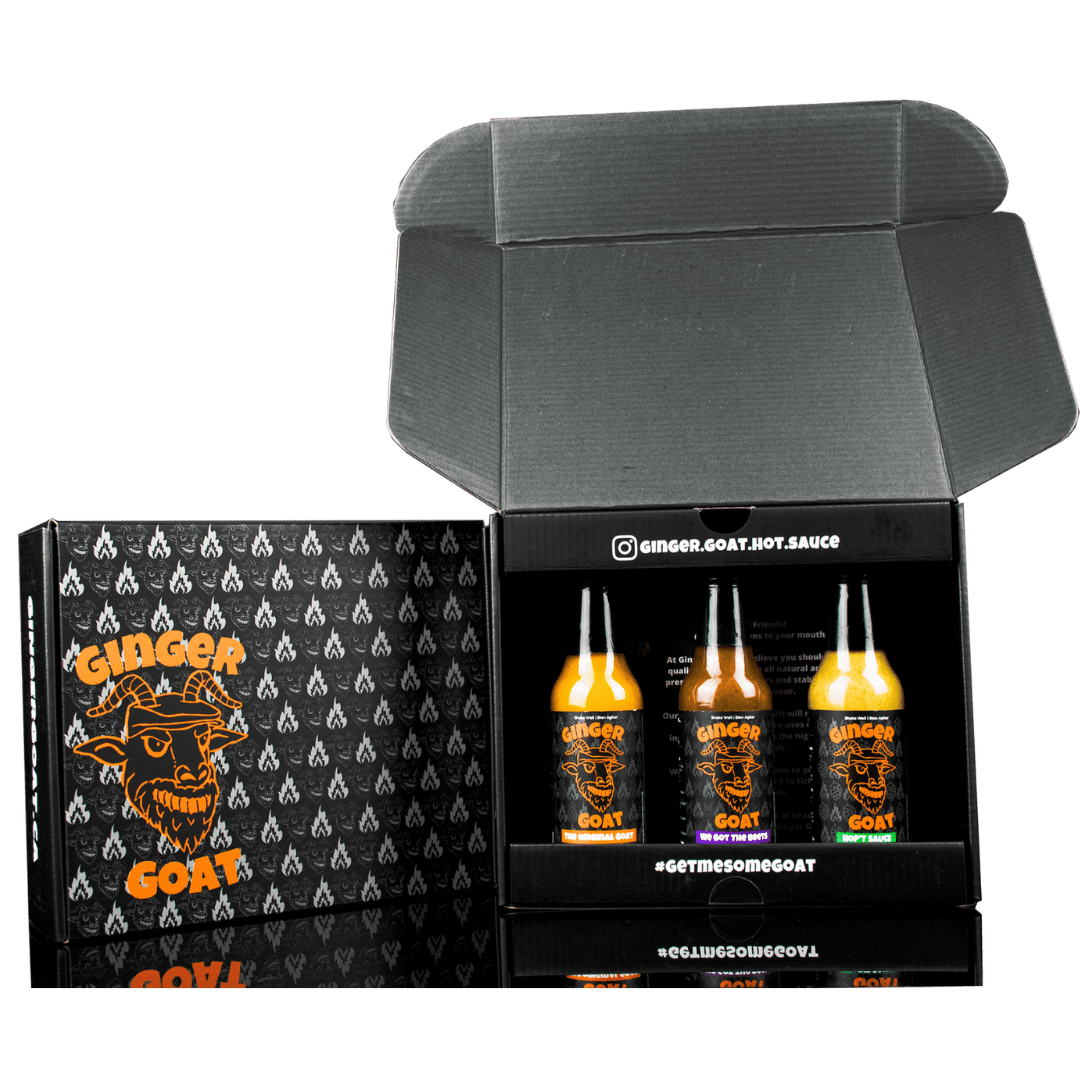 ---
Create your own 3-pack! Choose any three of our sauces and save. 
Mix and match as you will or order all 3 the of the same to stock up. No matter how you pick 'em, there's a headbutt of flavour coming your way!
---
Bet you never thought you'd be curious about how Goat Nuts would taste, but, here you are reading this description.
Goat Nuts are made the traditional way in a copper kettle by our friends at Old Tyme Kettle Company. That's where the traditional stops though. 
As part of the process we've added our Original Goat hot sauce and kicked it up a little with pineapple powder, ginger and Carolina Reaper powder to give you a blast of heat, flavour & fun...for your mouth.
And now you're here, about to place an order so you can put Goat Nuts in your mouth and we bet you'll like 'em enough to do it again!

One of our favorites. The ginger hit makes this fresh and flavorful, just enough heat to keep it interesting and versatile.
My husband and I tried this sauce after reading the ingredients; it sounded interesting. We haven't had the sauce for a month yet and we're already going to have to purchase another bottle. Seriously one of our favorite sauces now. It's a great combination of sweet and heat. Goes on everything!
My whole family loves this sauce. It's perfectly spicy and oh so flavourful.
I love the flavor of this sauce! Using just a small amount on chicken is so perfect. The flavor isn't hampered by the kick you get after from the peppers. It just makes the sauce so good!
One of the greatest I've ever had. The combo of ginger and pineapple makes it super tropical tasting and sweet. The heat level is such that you can slather it on. It brings the heat, but not so much that you can't keep slathering it on. Def a staple in my cabinet.
Love the first taste that is the sweetness of peaches… but then BAM you get reminded that scorpion peppers are hot. It's a fun, spicey combination of flavors that is great on chicken for sure.
Where to find us:
Want to see us in a store near you? Send an email to hay@gingergoat.ca and let us know!
FAQ
You have questions, we've provided answers right here...for most of those questions anyway...
Well for some of them at least.
Okay fine, we answered the most Frequent Ones okay!
Yes, we ship all over the world. Shipping costs will apply, and will be added at checkout. We run discounts and promotions all year, so stay tuned for exclusive deals.
Do your sauces contain.....

Some yes, maybe.....depends.

While we keep things simple and don't have any thinckeners, stabilizers or preservatives (Chemicals = Bad | Hot Sauce = Good!) our sauces can be a little complicated...like your last partner!

Luckily, we're pretty upfront about what's in our sauces and are clearly labelled so you know what to expect...unlike your last partner.

Check out the product pages for each sauce for nutritional guides and ingredient lists.
Absolutely. We love seeing our little bottles go off to greet the mouths of hot sauce friends.

We love it when they go off in batches too to hit the shelves of awesome stores around the world ready to be headbutt the tastebuds of many!
How long will it take to get my orders?

It depends on where you are and what delivery options you choose. Orders processed here will take 5-7 business days to arrive. Overseas deliveries can take anywhere from 7-16 days. Delivery details will be provided in your confirmation email.
Do you do markets, festivals or other events?

Heck ya! We love a good time!

If you're organizing an event or are looking for some sponsored items, hit us up! We can't always say yes, but, we'll always try.
Well not ANY question....we've seen the kinda things you ask and we don't want to be responsible for answering those weird things!
That depends on which shipping option you choose. While almost all of our courier options will come with a tracking number, there are some Canada Post options which do not include this.

While it might be the most economic option sometimes, if there is a delay, we don't get a tracking number either and won't be able to help and this makes us sad too.